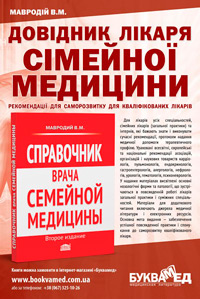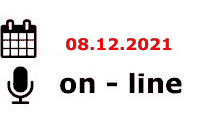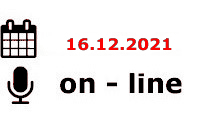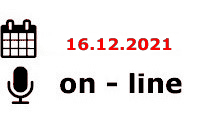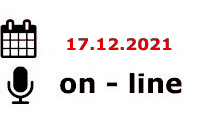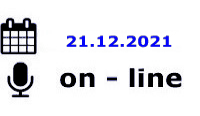 ---
СІМЕЙНІ ЛІКАРІ ТА ТЕРАПЕВТИ
---
НЕВРОЛОГИ, НЕЙРОХІРУРГИ, ЛІКАРІ ЗАГАЛЬНОЇ ПРАКТИКИ, СІМЕЙНІ ЛІКАРІ
---
КАРДІОЛОГИ, СІМЕЙНІ ЛІКАРІ, РЕВМАТОЛОГИ, НЕВРОЛОГИ, ЕНДОКРИНОЛОГИ
---
СТОМАТОЛОГИ
---
ІНФЕКЦІОНІСТИ, СІМЕЙНІ ЛІКАРІ, ПЕДІАТРИ, ГАСТРОЕНТЕРОЛОГИ, ГЕПАТОЛОГИ
---
ТРАВМАТОЛОГИ
---
ОНКОЛОГИ, (ОНКО-ГЕМАТОЛОГИ, ХІМІОТЕРАПЕВТИ, МАМОЛОГИ, ОНКО-ХІРУРГИ)
---
ЕНДОКРИНОЛОГИ, СІМЕЙНІ ЛІКАРІ, ПЕДІАТРИ, КАРДІОЛОГИ ТА ІНШІ СПЕЦІАЛІСТИ
---
ПЕДІАТРИ ТА СІМЕЙНІ ЛІКАРІ
---
АНЕСТЕЗІОЛОГИ, ХІРУРГИ
"Pain. Joints. Spine." Том 11, №2, 2021
Age-related changes in bone tissue in men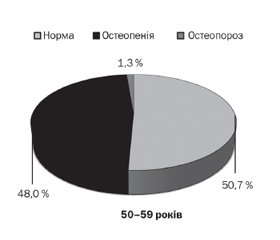 Summary
Метою дослідження було встановлення вікових змін кісткової тканини (КТ) у чоловіків. Матеріали та методи. Дослідження проведене на базі відділу клінічної фізіології та патології опорно-рухового апарату ДУ «Інститут геронтології імені Д.Ф. Чеботарьова НАМН України» із залученням 342 практично здорових чоловіків віком від 20 до 89 років без остеопорозу й остеопоротичних переломів, без патології з доведеним впливом на КТ, а також соматичної патології в суб- чи декомпенсованому стані. Використовували загальноприйняті методи обстеження: опитування, клінічне та антропометричне обстеження, інструментальні дослідження. Мінеральну щільність кісткової тканини (МЩКТ) визначали на рівні всього скелета, поперекового відділу хребта (L1-L4), проксимального відділу та шийки стегнової кістки, дистального та ультрадистального відділу кісток передпліччя методом двофотонної рентгенівської абсорбціометрії на приладі Prodigy, GEНС Lunar. Результати. Зареєстроване вірогідне зниження МЩКТ на рівні шийки стегнової кістки на 14,8 % у віці 60–69 років, на 20 % — у 70–79 років та 24,1 % — у 80–89 років порівняно з показниками чоловіків 20–29 років; тоді як на рівні поперекового відділу хребта виявлене зниження зазначеного показника на 1,6 % у віці 60–69 років, на 1,9 % — у 70–79 років та 0,8 % — у 80–89 років відповідно. Серед обстежених практично здорових чоловіків КТ у межах вікової норми була виявлена у 67,8 %, остеопенію мали 27,8 %, а в 4,4 % діагностований остеопороз. Висновок. Установлене вік-асоційоване зниження МЩКТ на різних ділянках скелета у практично здорових чоловіків без клінічно значущих факторів, що впливають на обмін КТ. Найбільш виражена втрата спостерігається на рівні шийки стегнової кістки, при цьому у 4,4 % обстежених встановлений остеопороз без будь-яких клінічних ознак.
The purpose of the study was to establish age-related changes of male bone tissue. Materials and methods. The study was conducted by the Department of Clinical Physiology and Pathology of the Musculoskeletal System of the State Institution "D.F. Chebotarev Institute of Gerontology by the National Aca­demy of Medical Sciences of Ukraine". It involved 342 healthy men aged 20 to 89 years without osteoporosis and osteoporotic fractures or any pathology with a confirmed impact on bone tissue, as well as any somatic pathology in the sub- and decompensation. The following methods of examination were used: questionnaire, anthropometric measurements, clinical and instrumental examination. Bone mineral density (BMD) was measured by the dual-energy X-ray absorptiometry machine "Prodigy, GEНС Lunar" at the level of the entire skeleton, lumbar spine (L1-L4), proximal femur and femoral neck, distal and ultra-distal forearm bones. Results. We have detected a significant 14.8 % decrease of BMD at the level of femoral neck in the group of men aged 60–69 years, by 20 % in the group of men aged 70–79 years, and by 24.1 % in the group of men aged 80–89 years compared to the men aged 20–29 years; at the same time, at the lumbar spine there was re­gistered a decrease of this parameter by 1.6 % in men aged 60–69 years, by 1.9 % in men of 70–79 years and by 0.8 % in men of 80–89 years, respectively. Among the examined practically healthy men, the bone tissue remained at the normal level relative to age in 67.8 %; osteopenia was detected in 27.8 %, and osteoporosis in 4.4 %. Conclusions. An age-associated BMD reduction was registered at various skeletal sites in the practically healthy men wi­thout any clinically significant factors affecting bone tissue metabolism. The most pronounced BMD loss was observed at the level of fe­moral neck. At the same time, 4.4 % of examined had osteoporosis without any clinical signs.
Keywords
вік; мінеральна щільність кісткової тканини; остеопороз; чоловіки
age; bone mineral density; osteoporosis; men
For the full article you need to subscribe to the magazine.
Bibliography
Brailova N.V., Kuznetsova V.A., Dudinskaya E.N. et al. Aging bone. Russ. J. Geriatr. Med. 2020. 147-153. doi: 10.37586/2686-8636-2-2020-147-153.
Chen H., Shoumura S., Emura S. et.al. Regional variations of vertebral trabecular bone microstructure with age and gender. Osteoporos. Int. 2008. 19. 1473-1483. doi: 10.1007/s00198-008-0593-3.
Morgan E.F., Unnikrisnan G.U. Bone mechanical properties in healthy and diseased states. Annu. Rev. Biomed. Eng. 2018. 4. 119-143. doi: 10.1146/annurev-bioeng-062117-121139.
Evensen E., Skeie G., Wilsgaard T. et al. How is adolescent bone mass and density influenced by early life body size and growth? The Tromsø Study: Fit Futures — A longitudinal cohort study from Norway. JBMR. 2018. 2. 268-280. doi: 10.1002/jbm4.10049.
Baker B.S., Chen Z., Larson R.D. et al. Sex differences in bone density, geometry, and bone strength of competitive soccer players. J. Musculoskelet. Neuronal. Interact. 2020. 20. 62-76.
Kim A., Baek S., Park S. et al. Bone mineral density of femur and lumbar and the relation between fat mass and lean mass of adolescents: based on Korea National Health and Nutrition Examination Survey (KNHNES) from 2008 to 2011. Int. J. Environ Res. Public Heal. Artic. 2011. 1-15.
Weaver C.M., Gordon C.M., Janz K.F. et al. The National Osteoporosis Foundation's position statement on peak bone mass development and lifestyle factors: a systematic review and implementation recommendations. Osteoporos. Int. 2016. 27. 1281-1386. doi: 10.1007/s00198-015-3440-3.
Chen H., Zhou X., Fujita H. et al. Age-related changes in trabecular and cortical bone microstructure. Int. J. Endocrinology. 2013. 1-9.
Greenwood C., Clement J., Dicken A. et al. Age-related changes in femoral head trabecular microarchitecture. Aging Dis. 2018. 9. 976-987.
The International Society for Clinical Densitometry (Adult) Official Positions 2019. 1-35. doi: https://www.iscd.org/official-positions/2019-iscd-official-positions-adult.
Cosman F., de Beur S.J., LeBoff M.S. et al. Clinician's guide to prevention and treatment of osteoporosis. Osteoporos. Int. 2014. 25. 2359-2381. doi: 10.1007/s00198-014-2794-2.
McCormack S.E., Cousminer D.L., Chesi A. et al. Association between linear growth and bone accrual in a diverse cohort of children and adolescents. JAMA Pediatr. 2018. 171. e171769. doi: 10.1001/jamapediatrics.2017.1769.
Bailey D.A., Mckay H.A., Mirwald R.L. et al. A six-year longitudinal study of the relationship of physical activity to bone mineral accrual in growing children: The university of saskatchewan bone mineral. J. Bone Miner. Res. 1999. 14. 1672-1679.
Kralick A.E., Zemel B.S. Evolutionary perspectives on the developing skeleton and implications for lifelong health. Front. Endocrinol. (Lausanne) 2020. 11. 1-11. doi: 10.3389/fendo.2020.00099.
Povoroznyuk V.V., Orlyk T.V., Kreslov E.O. Modern view on the problem of osteoporosis in men in Ukraine. Pain. Joints. Spine. 2012. 2. 42-49.
Antônio M., Loures R., Augusto C. et al. Review article guidelines of the brazilian society of rheumatology for the diagnosis and treatment of osteoporosis in men. Rev. Bras. Reumatol. 2017. 57. 497-514. doi: 10.1016/j.rbre.2017.07.003.
Farr J., Khosla S. Skeletal changes through the lifespan — from growth to senescence Joshua. Nat. Rev. Endocrinol. 2016. 11. 513-521. doi: 10.1038/nrendo.2015.89.
Compston J. Age-related changes in bone remodelling and structure in men: Histomorphometric studies. J. Osteoporos. 2011. 1-4. doi: 10.4061/ 2011/108324.
Tian L., Yang R., Wei L. et al. Prevalence of osteoporosis and related lifestyle and metabolic factors of postmenopausal women and elderly men: A cross-sectional study in Gansu province, Northwestern of China. Medicine (Baltimore). 2017. 96 (43). e8294. doi: 10.1097/MD.0000000000008294.
Gaddini G.W., Turner R.T., Grant K.A. Alcohol: A simple nutrient with complex actions on bone in the adult skeleton. Alcohol. Clin. Exp. Res. 2016. 40. 657-671. doi: 10.1111/acer.13000.
Shahab L. Smoking and bone health. National Centre for Smoking Cessation and Training. 2012. 1-6.
Mikosch P. Alcohol and bone. Wien Med. Wochenschr. 2014. 164. 15-24. doi: 10.1007/s10354-013-0258-5.
Kapoor D., Jones T.H. Smoking and hormones in health and endocrine disorders. Eur. J. Endocrinol. 2005. 152. 491-499. doi: 10.1530/eje.1.01867.
Wong P.K., Christie J.J., Wark J.D. The effects of smoking on bone health. Clin. Sci. 2007. 241. 233-241. doi: 10.1042/CS20060173.
Rodionova S.S., Khakimov U.R. Risk factors of bone mineral density deficit and low-energy fractures in primary osteoporosis in men. J. Traumatol. Orthop. 2018. 1. 22-29. doi: 10.32414/0869-8678-2018-1-22-29.